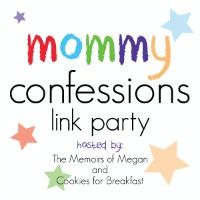 Ladies, let's get real.
Truth is… I suffer from MOM GUILT. I don't think I'm alone in this… in fact, I KNOW I'm not alone in this (just check out Dawnelle's recent post, regarding similar feelings).
I'm a stay-at-home mom. My job is more than just full-time. It's round-the-clock. I love it. But with it comes the reality that I won't always get a break during the day when I need one or half hour lunch to enjoy (and obviously this depends on the day, some are obviously better than others, and it wasn't quite this extreme before juggling the needs of not just one but TWO little ones). I don't leave my job at the end of 8 or 12 hours, knowing that somebody has come in to replace me for the next shift or that I have till the next day to continue my work.
Again, I LOVE what I do and feel so truly blessed beyond belief to have the opportunity to do it. However, sometimes momma needs a break. A breather. A chance to get away for a bit, gather my thoughts, and revitalize myself.
BUT, this leaves me feeling guilty. GUILTY, GUILTY, GUILTY. Why am I being so impatient with them? Why do I feel like I need to get away from them? Does this mean I'm failing at my job as a mother? Why can't I handle this? And worst of all, feeling like I don't love my children as much as I should or as they deserve. So as if being exhausted and slightly overwhelmed with the demands of two toddlers isn't enough… I carry this guilt around with it.
Where does this guilt stem from? Mostly my anxiety as a mother and own insecurities in my parenting. But also from judgement of other mommas.
Saturday, was no exception to this feeling. I had left the two little ones with my Hubby, as I headed back "home" for the morning to attend a craft show with a close friend, held at our alma mater. I thoroughly enjoyed my visit with her and perusing the many stands of handcrafted items throughout the halls and gym where I once attended High School. I enjoyed the quiet silent (not even the radio on) hour and a half drive down there and back again… I could actually hear my thoughts, make sense of them, and that left me feeling a lot less overwhelmed by many of the things that had been weighing on me (but that I had just never had a chance to address or consider).
I came back to my two little ones and Hubby feeling refreshed, renewed, revitalized. They both seemed more than thrilled by having Daddy's uninterrupted attention all morning for a change. It was a good experience for all of us.
At that point, I realized that there is nothing wrong with me. I have no reason to feel guilty when I feel the need for a break. We ALL benefited from the break… I had some quiet time to, in a sense, meditate during my drive, along with the interaction of a close friend… The Hubby had a chance to spend some uninterrupted time with the kiddos after a long, 50-hour, work week… and the kiddos had a slight change from their momma's boring routine by Daddy watching over and tending to them for the morning while Mommy was gone.
Do YOU suffer from MOM GUILT? If so, what triggers your feelings of guilt? Linking up with Heather of Cookies for Breakfast and Megan of The Memoirs of Megan for Mommy Confessions.